Time for a retrospective; I may be writing this from back south in Guelph, but looking through these photos is making me feel like I'm right back at Squirrel Camp again. I'm a new contributor to this blog; I'm just starting my MSc on the project, but I was up in the field for the last six months working as a technician on the core data collection. This was actually my second year up at camp, but my stay was substantially longer and this time I got to overlap more with the winter crew, which was awesome.
Luckily for me, I really love the cold and snow. If that weren't the case, then Yukon in March might not have been quite as enjoyable as I found it. There were definitely some difficulties that came along with – having to snowshoe everywhere you walk, not being able to feel your fingers 75% of the time – but we also got so many quintessential Yukon experiences, like volunteering at a sled dog race and seeing the northern lights nearly every night.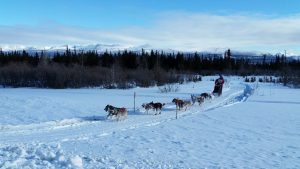 The worst part of the year at camp, in my opinion, is the transition season in the late winter when everything is melting and there are mud and puddles everywhere you look. That passes, though, and then all the leaves emerge seemingly overnight and it's spring out of nowhere.
And with spring comes babies – lots and lots of baby squirrels. It's the best part of being at camp by far, getting to tag and weigh all the juveniles. Finding the nests and retrieving the pups usually isn't too hard, but sometimes it takes a little more effort or you get a couple surprises. Twice this year I was looking into a nest and had northern flying squirrels jump out at me instead of the red squirrel pups I was expecting, which is (as you might expect) quite the surprise.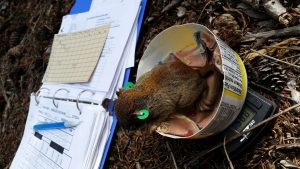 The first week of May marked the last time I remember seeing a star at night until the beginning of August. Summer in Kluane is a time of early mornings and late evenings, and if you don't adjust to sleeping while the sun is still up then you're going to end up very sleep deprived. Although I missed seeing the aurora at night, there's something to be said for never needing artificial illumination for three months straight.
It wasn't all work, all the time, at camp this year. We made the most of our days off and Friday and did as many hikes as we could. One of my favourites this year was Sheep Mountain overlooking Kluane Lake – I had tried it last year and had to stop partway up, so I was excited to do it properly and get all the way to the summit. We did it mid-August, so not only was it a beautiful view but it also made an excellent send off for some of the technicians that left soon after that.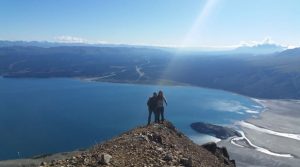 All in all, I think these past six months in Kluane were some of the best (and most sleep deprived) I've had in a long time. I'm already looking forward to heading back up again this coming su mmer to work on my own research.
Hoping all your squirrels are trappable,
Jack Robertson
MSc student, University of Guelph